You can trust More To Life Adult Day Health Center to care for your family member just like you would, if you had the time.

As an Adult Day Care Health Center in Sparks, Nevada, we are a perfect solution for the families that want to remain together but need a clean, safe, and convenient place for a dependent loved one during the day. We offer Senior Club Activities that are recreational and keep seniors active. We also have senior care services and safety supervision.
Enjoy freedom and peace of mind while your family member enjoys better mental, physical, and emotional health. Call us now at 775-358-1988.
Respite Care in Reno, Nevada, and Sparks, Nevada
Our Adult Day Care in Sparks/Reno offers daily relief so families can focus on employment, have peace of mind or respite, and avoid caregiver burnout and guilt.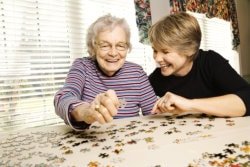 More to Life is a medical model and a social model adult day center, meaning that it accommodates clients with minimal needs, but also those with more severe needs. Senior Care services include: a nutritious diet, shower facility, licensed nurses, wellness monitoring, exercise program, fall-risk prevention, caregiver support, incontinence management, medication management and a secure facility. More to Life provides a safe and friendly group care program for dependent adults during the day. The program is designed to maintain the participants' highest level of independence and self-confidence, and to meet the needs of frail or impaired adults, including those with MS, diabetes, traumatic brain injuries, Alzheimer's and other forms of dementia. The program provides an economical alternative that enables families to remain together longer while extending independence and offering "More to Life" for the recipient and for the caregiver.
More to Life has full and half-day affordable rates that are below the national average. Normal operating hours are Monday-Friday, 7:00 AM-5:30 PM and Saturdays 9:00 AM-4:00 PM.
"Supporting families by serving seniors and dependent adults during the day."
RELAX AND HAVE CONFIDENCE
With the Care Associates in our Senior Club, one can be confident that their loved one is receiving the best care from well-qualified staff. Our experienced team works with doctors, families and caregivers to tailor a program to best meet the individual's physical, intellectual, social and emotional needs.
More to Life benefits the client and the family members by giving your loved one a chance to enjoy a safe, friendly environment, foster peer relationships and strengthen self-confidence. Caregivers have an opportunity to feel refreshed and attend to other daily obligations. More To Life Adult Day Health Center can delay, and often eliminate, the need for more expensive care provided in assisted living, nursing homes or in-home care. More to Life is a cost-effective solution for quality care. Financial assistance may be available based on individual circumstances.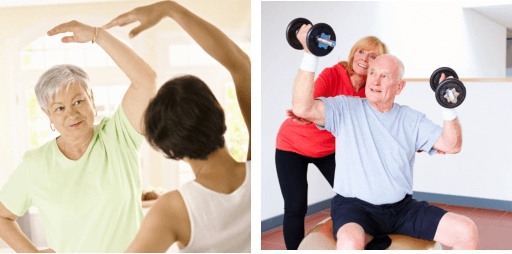 More to Life provides Adult Day Care in Reno participants with events every hour of the day, including: social activities, games, puzzles, crafts, music, entertainment, exercise programs, art instruction, discussion groups, holiday and birthday celebrations, youth association, intergenerational programs, local outings (limo tours) and more. We also have a safe, secure yard and patio area allowing fresh air, recreation, gardening and sunshine to facilitate feelings of well-being.
TRANSPORTATION – As an additional service, transportation is available to and from the center, as needed and by appointment only. Please make arrangements in advance for this service.
LUNCH & SNACKS – Professionally prepared lunch is served each day, compliant with nutritional guidelines and special dietary needs. Healthy snacks will also be provided mid-morning and afternoon. All staff are trained with regards to special dietary requirements.
MEMORY CARE – Qualified care is provided for those with dementia, including Alzheimer's or other memory care needs.
CAREGIVER SUPPORT – Resources for families requiring social services, financial or legal assistance, counseling, support groups and networking.
PERSONAL CARE – Out staff is trained in toileting and incontinence management, and assisting with activities of daily living.
AFFORDABLE RATES – More to Life offers flexible full-time and part-time respite care. Participation is affordable and is a fraction of the cost of in-home care or assisted living facilities. Fees include nutritious meals, snacks, and activities. Transportation to our facility can be arranged separately and by appointment only with advanced notice.